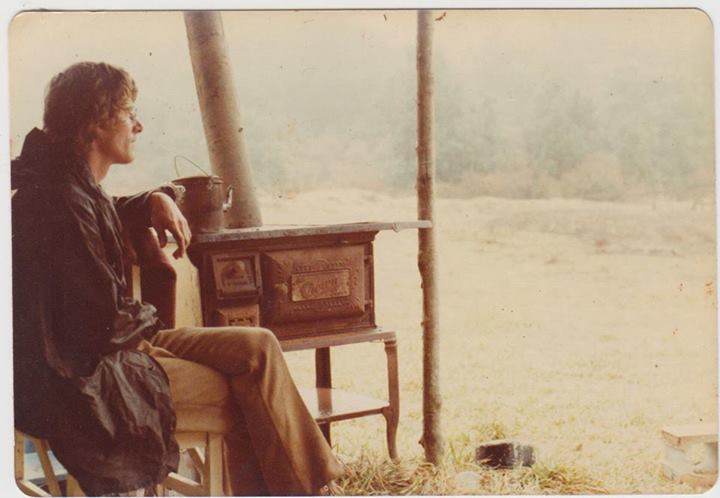 I came to live at Possum Valley in the dry season of 1976 and have been living here since then.  Michael Cheshire and I had bought the 156 acres of rainforest to do the hippie self-sufficiency thing, with half a mind of starting a colony of like-minded people.  Michael moved on and I bought him out of his half-share and I have remained and must admit to being complacently content.
Yesterday my daughter Josie published a photo album on Facebook commemorating this historical event.  Not historical as in 'important', but historical in the meaning of long ago.  I was 26 when I bought the block and had no idea I would still be here all these decades later.  Thanks Josie.
I have no regrets about 'wasting' an Mech Eng degree, about not being rich and famous, and long ago settled for contentment over striving.  So I have been skint most of my life, but without debt and able to put food on the table.  My greatest achievement by far, is raising two beautiful daughters to become two beautiful people and to provide a stable physical and psychological concept of home for them.
Now that  grandchildren are around, Possum Valley takes on the role of ancestral home and makes me the patriarch presiding over it.  I have had the satisfaction of doing what I like, which is crafting and building, and the luxury of mostly working for myself.  I really enjoy acquiring new skills, even though the difficult ones such as website building and understanding and cranking legal processes require a considerable period of frustration before progress is made.  I have had the pleasure of watching the wildlife doing what it wants to do and often attempting to plunder my resources.  I have met so many people much more passionate than me about observing the fabulous wildlife, from mites to tree roos, and I thank them all for educating me.
Having mentioned the good things about 40 years living at Possum Valley, I ought to mention the difficult or downright bad.  I think most of you will know that in the monsoon season in a tropical rainforest, it rains a bit, or a lot, or absolutely buckets down seemingly endlessly.  They heavy rain causes damage to roads and other things such a wiping out the hydro and the water pump.  In recent years I have been treated to direct hits by category 4 & 5 storms which litter the road with hundreds of trees tied together with vines.  The 600m of power transmission wires totally demolished each time and had to be found, pulled out and re-erected.  Tough yes, hard work, lots, but nothing compared to so many Australians who live in flood prone
or fire prone areas.  For many people there is nothing left to repair.  Another disadvantage which looms large in the minds of some of my guests is leeches.  Yesterday I spent in the creek underneath the meditation hut installing new joists after 13 Japanese lawyers crowded on it and cracked a few.  It didn't collapse, but they beat a hasty retreat.  Probably as well it didn't collapse.  If you own a structure and it does collapse and cause injury, then you don't want it to be a scrum of lawyers.  Meanwhile, back at the leeches, under the meditation hut is leech central for the little buggers.  I could have sprayed some repellant on, but nah, can't be bothered.  Just pick and flick every hour or two and hose off the blood when I'm finished.
That I have prospered in the material sense is a bit of a mystery to me, as it was never one of my goals, but I own three houses on 156 acres of rainforest and rarely been in debt and rarely worked for wages.     I run a business that doesn't require me to get out of bed early, provides a decent living, gives me plenty of free days, doesn't require commuting, I'm the boss and can change things at a whim, I'm in a beautiful environment and best of all I get to meet interesting people and introduce kids to a bit of wildness.
To those of you battling mortgages and expenses, city stress and vexatious neighbours, I'm not gloating, I am acknowledging my blind good fortune having followed a path where I worked directly for myself to build what I wanted.  Of course I needed money along the way, but that was the secondary input after my labour.
Now on a different tack, I contemplate the present.  I'm 40 years older and time takes it's toll.  I'm slower and weaker but still battling on.  I have 4 grandkids from a few months old to three and a half years old.  For the last week, Josie and family have been staying at the homestead in Possum Valley.  Hectic and delightful.  Many times we got got together with the family of Alice my other daughter, and chaos reigned.  The full catastrophe of 2 families and 4 little kids.  I'm still looking for things which have been ingeniously distributed and concealed by those zealous agents of entropy.  Wouldn't have it any other way.
As a young teenager, uncle Albert asked me what I wanted to be when I grew up.  I think he was expecting an answer like fireman, pop star or astronaut, but I said I just wanted to be happy.  For reasons I only understand now, he seemed surprised and impressed.  As an older me, I have changed that just a little after absorbing some wisdom from others, such as the Dalai Lama who said that happiness is beautiful but fleeting.  Having a base of contentment makes those joyous moments of happiness the icing on the cake.
I will now decorate the cake with photos from ancient times and very recent times.  My webmaster Robert, thanks Rob, early on advised me to do the text first and add the media later.