Blackbean Cottage sleeps 6, named after a local rainforest timber, features many rainforest timbers for inside paneling . It has 3 bedrooms with 2 double beds and 2 single beds. One of the double beds is in a sleeping loft under the pointy bit of roof. The loft is accessed by steep steps and may be unsuitable for a person with a disability. It is located right next to Possum Creek and it is often possible to see platypus and an occasional large eel from the cottage. A wooden bridge spans the creek. There is a veranda overlooking the creek with a portable gas BBQ.
For the colder months, there is a gas room heater. Linen and towels provided. There are dounas on the bed and extra blankets available. There is a 4-burner gas stove with grill and oven. Standard fridge with freezer compartment. Pots, plates dish-washing liquid etc provided. Tea, coffee and sugar provided. Hot water supplied by a gas system with a tank of limited capacity, but has quick recovery.
Blackbean is constructed entirely from timber outside and inside. It was the first building on the property and constructed entirely with hand tools before the power system was built. It was started in 1976 without benefit of plans, knowledge, building approval or money. Completion time was about 11 months at a cost (1976 dollars) of about $1,400 complete with doors windows, plumbing, wood stove etc. A third of the cost was the tin on the roof. Building approval was obtained 25 years later. Originally, there was a porch and wood store where the entrance corridor and bathroom now are. The 'bathroom' was a long drop on the other side of the creek and 50m up the hill. When my wife was heavily pregnant, especially on wet windy nights, I was told in no uncertain terms that an upgrade was required.
Maple Cottage sleeps 8, is named after a local timber featured in some rooms. It has 4 bedrooms with 1 queen bed, 1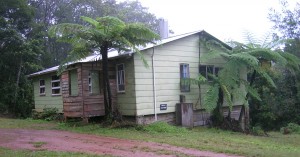 double bed, 2 single beds and a bunk bed. Total floor area is about 120 square metres. It is located about 50m up from the largest dam. In the evening, wallabies and paddymelons may be seen around the cottage and possums may come on the veranda to test your generosity. Though often calm and approachable especially when they smell food, they are wild animals with sharp teeth and claws, so parental supervision is required. When settled with a tasty morsel, it is sometimes possible to stroke them and discover they have the softest fur, used in New Zealand for Everest quality socks. A portable gas BBQ is located on a floor area under the veranda. It can be carried to wherever suits best. The hot water is gas heated with a solar collector on the roof to extend the capacity though of course it requires sunshine to be effective. In any case the gas heater is quick recovery.
For both cottages Linen and towels are provided and there is a gas room heater for the colder months. There are dounas on the beds with extra blankets available. There is a 4 burner gas stove with grill and oven and a standard fridge with freezer compartment. Pots, plates dish-washing liquid supplied. Tea, coffee, sugar supplied.
I can supply foam mattresses and linen for extra people as required. I do allow tents/camping for a booking where there is an overflow situation, on the understanding that the extra people share the bathroom in the cottage. There are no seperate facilities for campers. There is no charge for campers unless I provide mattress and linen.
I do allow pets on the understanding that the owners will responsibly manage them.