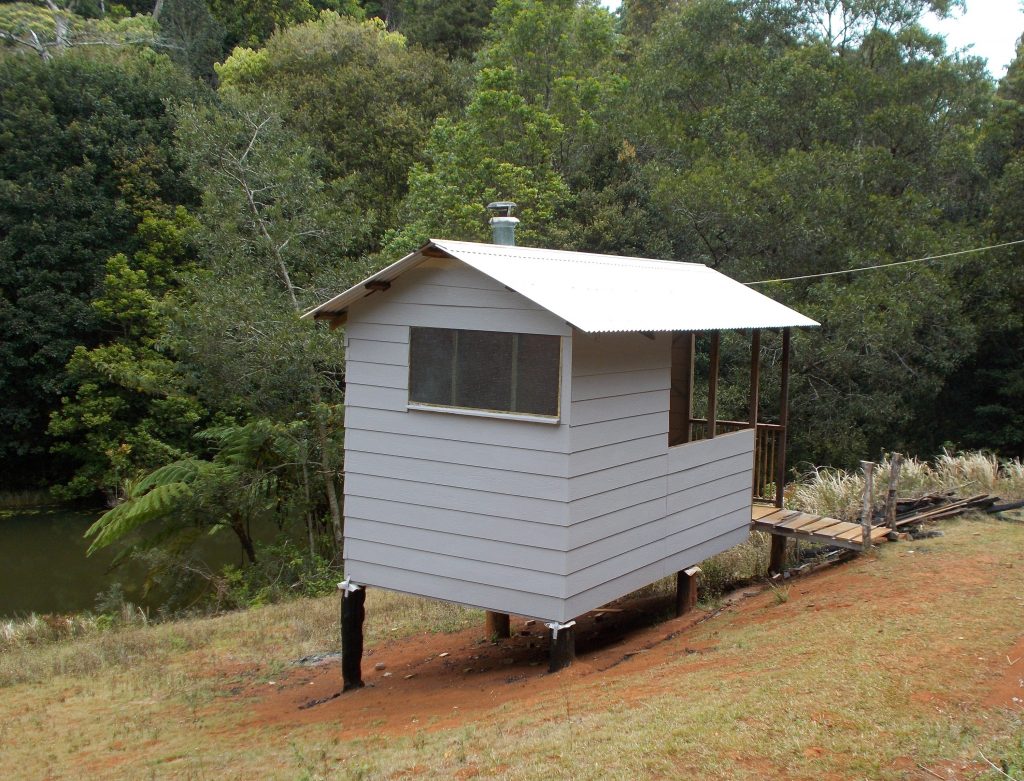 After much delay by the weather and other commitments such as running a business and one or two days a week looking after young grandkids, I have finally managed to complete the rebuilding of the sauna hut and it is now open for use.  The weather in particular has been most uncooperative with persistent rain up right up until late August.  The very narrow, unsurfaced track is very slippy and one tiny mistake would see me, my vehicle and building materials sliding sideways into the dam below.  The slope at the site is very steep and most times I could hardly stand up on the slippy ground, let alone attempt work.  I am sure you understand it is miserable working in the rain and things go wrong so easily, especially on makeshift scaffolding with muddy boots and power tools.  So weeks went by with no progress.  Also a highly unionised work site so two drops on a shovel and I'm out of there.   So here it is.
I actually prefer the previous model of old timber boards scrounged from around the place, But I've done so much scrounging in the last decade, there's nothing left.  The last bits went into the tree house.  So I had to actually buy the materials and that was a shock to the system.  Not just having to put my miserly trembling hand into my pocket, but also the cost of building materials seems to have moved on in the last few decades since I have done any substantial building.  Especially timber.  I had to settle for Hardi plank compressed cement boards which are strong enough when fixed, but a nightmare for one person to pick up.  They are not that heavy but 4.2 m long and awfully wobbly and when you try to carry one on edge it twists itself at the ends and snaps in the middle.  I had to clamp them to a long stick of wood to even pick them up.  I bought for the first time ever a few metal studs to use around the stove and chimney so I wouldn't have to build a Mark 3 hut.  Compared with the 3 by 2 hardwood studs they are meant to replace, they are awfully light and flimsy.  Accidentally step on one and it would just crumple.  I understand that most new houses are framed with the stuff.  Hmmm.
I gave myself a holiday in early September, the first one in years.  As I'm the boss here, I can have a holiday whenever I like and for as long as I like.  All I have to do is scan my booking diary, find some patch of white paper and scribble "hols" across it.  In practice, it is not quite that easy as the weekends at least are booked up months in advance, so I have to think ahead.  I'm not very good at that.  So I went to see my daughter Josie, partner Kairne and two grandkids Huon 6 and Evie 4 in September.  I would have liked mid-winter for Darwin, but missed booking it in with myself (how dumb is that!), so went later.  They have bought a post-cyclone Tracy house, known locally as a 'bunker'.  The walls and ceiling are solid reinforced concrete.  Now that's something to fix a roof to!  The garden is nice with well established trees and Alexandria palms.  They are fortunate enough to have a pool to flop into on hot days, which is pretty much all year.  While I was there it got up to 36.6C with 80% humidity.  My first day back at Possum Valley the max was 16C.  More than 20C difference.  Somewhere in the middle would be nice.
In Darwin Josie and Kairne had work to do of course, Huon was at school, so I was dutifully hosted by Evie aged 4 in her serious mode as she took me on a tour of the house and gardens, naming the chickens and most of the plants as well as she could.   A most charming host.  This was what I was there for, some one-on-one time with Evie that I had not really had before.  So then we were taking each other's measure until a little trust was established.  Later I saw her fun mode with squeals of laughter and wide shining eyes.
On that first day I disgraced myself.  I failed to pick up Huon from school.  I didn't even know it was required to pick up kids from school.  The house is only 200 m from the school grounds.  As a primary school kid I walked over a mile through a city each way, every day, rain or shine.  Evie gently said "Is it time to pick up Huon?".  Though I hadn't explicitly been told to pick him up, both parents were at work and I should have been able to work it out.  As I dashed out of the house in panic, Kairne drove up with Huon.  He had been summoned from work concerning an unattended, abandoned child languishing in the principle's office.  I suspect that will go down in family history.  Perhaps history will also record it is sad that kids can't walk the streets and roam as I did.
Later I did get to see a lot of Huon's school.  I spent a day on a school outing to the NT Wildlife Reserve sponsored by the government and very professional and interesting.  I attended classes to assist Josie give a small group assistance to cook choc-chip cookies.  I was fortunate to attend the school concert.  I was blown out by the difference in philosophy and practice from my day of 'talk and chalk' and quills and inkwell in the desks.  Yes quills, just like Shakespeare except that we had up-graded to metal quills rather than feathers.  They had giant touchscreen monitors which the kids confidently manipulated with sweeps and taps to bring internet news and events.  The whole open plan area was stocked with physical resources just waiting to be used.  The kids went in small groups without direct supervision and later reported back to the class what they had achieved.  Another positive is the huge cultural diversity and ethnic mix of Darwin.  Innuit were a bit thin on the ground, but all the world's people were there and celebrated at the school concert.
In Possum Valley news, it is sarsaparilla season with the trees blooming in profusion.  This pic from my bedroom window.