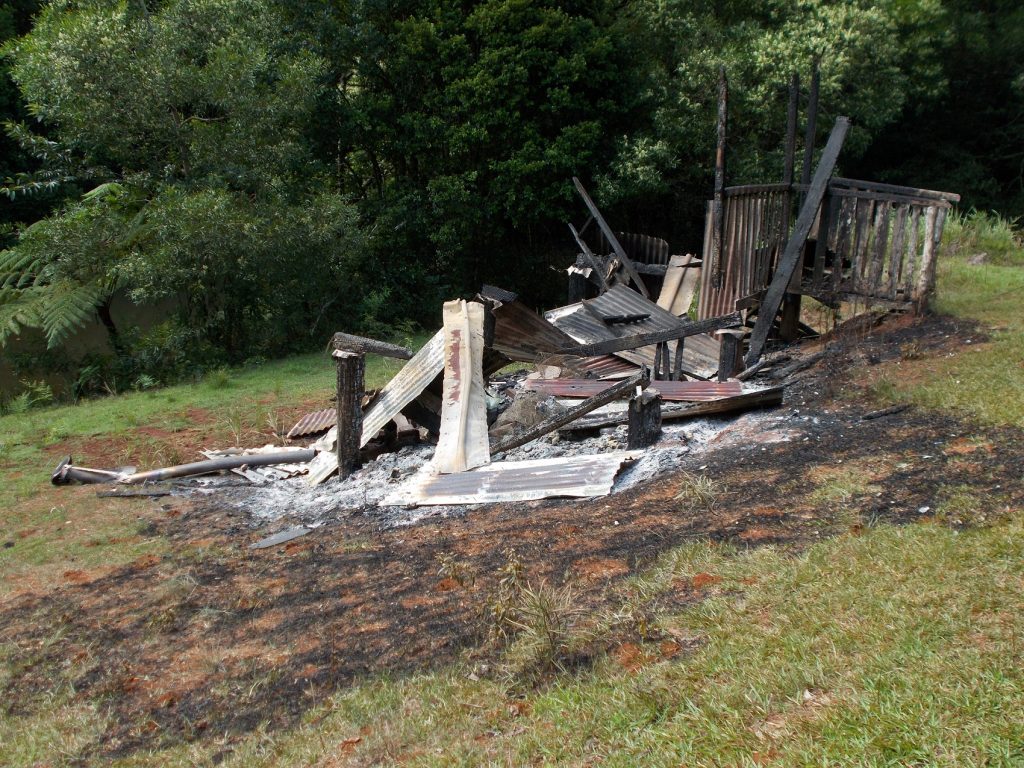 Yesterday the sauna hut burnt to the ground. I am pleased to say that nobody was hurt. Some guests had lit the fire then gone for a walk. A guest from the other cottage had gone past, not to partake of a sauna, but as is his bent and and pastime, in search of birds. and managed to take his eyes from his binoculars long enough the wreck, the fire and the smoke. He immediately came to inform me, heroically giving up valuable birding time, but when I got there there was nothing worth doing to quench the flames, but water from the burnt out plumbing was shooting everywhere except onto the fire. That had to be dealt with or the homestead and Blackbean Cottage would soon be out of water. I couldn't cut off the water in the wreckage of the sauna as it was still burning. I couldn't just turn it off at the tanks as the homestead and Blackbean would have no water. I had to find the tee connection where 15 years ago I had patched the supply pipe into the homestead supply pipe and block it off there. All I had to do is remember where that was and dig it up. First of all dig across the suspected direction of the pipe to find it, then dig along the pipe to find the connection. I had started 10 m away with my best guess.
I looked through my collection of plumbing bits to determine that I didn't have anything to fit and would have to bodge something to plug a 42 mm hole. I found a 45 mm cap and put it on the lathe to turn a 41-43 mm taper, put a bit of thread tape on it and flogged it into the hole with a hammer. Then a clamp to hold it in the hole against the pressure.. Emergency over and water restored. About that time along came the guest who had inadvertently incinerated the sauna. I informed him that his sauna wouldn't be happening. We went to inspect the remains.
He was distraught, probably from a mixture of guilt, the possibility that I might get angry, and the possibility I might demand restitution. I told him that I didn't think he meant to burn it down deliberately and it came under the category of " shit happens". Later on when I had fixed the emergency situation, I informed the guests in Blackbean that they could shit and wash again and went up to see the guilty party and relieve their anxiety. We had a long wide-ranging chat lubricated with red wine. I will rebuild the sauna again at my leisure. This time around it will require money as I no longer have left-over building materials. But Xmas is not a good time to start a project and many retailers are closed for up to 3 weeks and the weather is often unhelpful.
So dear guests, no saunas for a while, but I am told that many from the coast have had plenty of saunas in recent months and may not be demanding more anytime soon. My daughter Josie and family are coming over from Darwin soon in the last event of the Xmas family calendar and festivities, and I am hoping they have had enough saunas already.
I wish you all a happy Xmas and in the new year may the bluebird of happiness shit upon your shoulder.